Heaven Sent is one of the first perfumes I ever fell in love with, and one which may well have sowed the seeds of my love of powder. It was always an intense, dense dose of sexy baby powder and musk. In recent years, though, this poor perfume was most appallingly altered into something resembling nerve gas--high-pitched, cheap, and not at all powdery. As such, I have here and there acquired various vintage bottles from ebay, old drugstore stock, and yard sales, as well as a nice big bottle of LLP Infinite Grace, which is very close to the original--I have plenty of HS to last me a good long while.
Mr. Diva and I were shopping at Walgreen's just before Christmas and I saw a gift set of HS EDT and lotion, which ordinarily I would have dismissed, but I noticed that the bottle shape and the color of the juice was different.
The awful smelling bottle looks like this: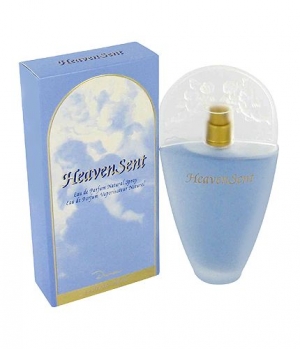 But the bottle I saw looks like this:
Note that the juice is a bit lighter than the pic, and gold. There are some images that I saw with blue juice in this bottle, which I have not seen and would not trust.
Anyway, it was only $9.99, so I figured that I would gamble. Heck, I've spent much more on lottery tickets. I hadn't had a chance to try it out until last night, but it was worth the wait--good news! It has been restored to something actually resembling old Heaven Sent. It's lighter, to be sure, in keeping with current tastes, but the overall scent is much, much closer to the perfume we know and love of old. I can still smell a pleasant powdery touch remaining on my arm this morning.
In these dark days of horrid and draconian reformulations (I know I sound dramatic), it's nice to have some good news to report!